Welcome to Queensland Branch
The Children's Book Council is an Australia-wide organisation which aims to foster children's enjoyment of books. On a national level, the organisation of the annual Children's Book of the Year Awards and Children's Book Week together with a biennial National Conference focussing on children's literature are important ways of achieving this aim.
The Qld Branch is organised by volunteers and operates out of the Qld Writers Centre located in the State Library of Queensland (SLQ). These important partnerships aim to connect organisations interested in literature in its many forms. The best way to contact us is by emailing: qld@cbca.org.au
We generally meet every third Tuesday of the month on Level 2, SLQ, Stanley Place, South Brisbane. Our meetings run from 6 - 8 pm. List of 2017 Meeting dates. [PDF]. Next Meeting is Tuesday, February 21st.
Our Patron
His Excellency the Honourable Paul de Jersey
Governor of Queensland
Image source, used with permission
The Book Slam is happening again. Go to the NEWS PAGE for all the details.
March 21 - to 6.30 pm, at SLQ.
BILBY NOMINATION voting now open!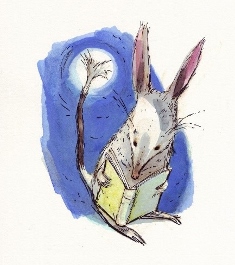 So excited to have a fresh image for our 2017 BILBY Awards, created by the wonderful Caroline Magerl, a local illustrator. Thank you Caroline, for this beautiful rendition of our beloved mascot. Look out for him on the new BILBY bookmarks and posters! Coming Soon!
In the meantime, get your students to add their nominations of the names of the books they loved best last year.
Voting is open until March 31st 2017. It's all explained on the nominations page.
VOTE NOW!