On September 6, both Year 5/6 and Year 7/8 competitions were held at different venues. The Year 5/6 competition took place in Ipswich and was supported by the StoryArts Festival, and A Lot of Books bookstore who supplied a voucher for the winning school. The Book Warehouse was very supportive with book prizes. The Year 7/8 competition was held at the Brisbane Square Library and we thank them for their assistance. The Book Garden was on hand to sell books, and provided a voucher for the winning school. We would like to acknowledge Riverbend Books who generously helped provide books as prizes.
The Year 5/6 teams were lucky to have three authors to act as quizmasters. Karen Foxlee, Samantha Wheeler and Sandy Fussell are amazing ambassadors for children's reading and we thank them very much for the support of our activities. The competition was very close, with the team from Far North Qld, St Andrew's Catholic College just edging out Graceville State School, representing Brisbane West Region by half a point! Well done to both teams, and to the other 16 teams who came from all over Qld to represent their region and their schools. Students from outside Greater Brisbane were given an opportunity to attend the StoryArts Festival the next day, and by all reports, the students were appreciate of this chance.
The Year 7/8 competition was fortunate to have Tristan Bancks their as quizmaster. He was especially pleased to be able to see the Book Trailers produced by each team and had lovely comments for the students about their work. He also spoke about the Room to Read program which he values highly, and reported that the audience donated $120 to the cause by the end of the evening. While Cairns State High School, also representing the Far Nth Qld region were clear winners, second and third places were much tighter. Xavier College representing Wide Bay were only one point ahead of two other teams who took equal third place - The North Qld team from Townsville Grammar School and Brisbane State High School, who represented Brisbane North. Students were given the opportunity to attend the Brisbane Writers Festival the next day and were very much looking forward to that.
We thank everyone across the state for their commitment to this extensive program that runs from March to September across all of Queensland every year. 2017 saw over 600 teams participate. Without the hard work of Librarians, Teachers and Teacher Librarians, we won't not be able to achieve what we do. Thanks to Jenny Stubbs, Tina Cavanough and President Mia Macrossan especially.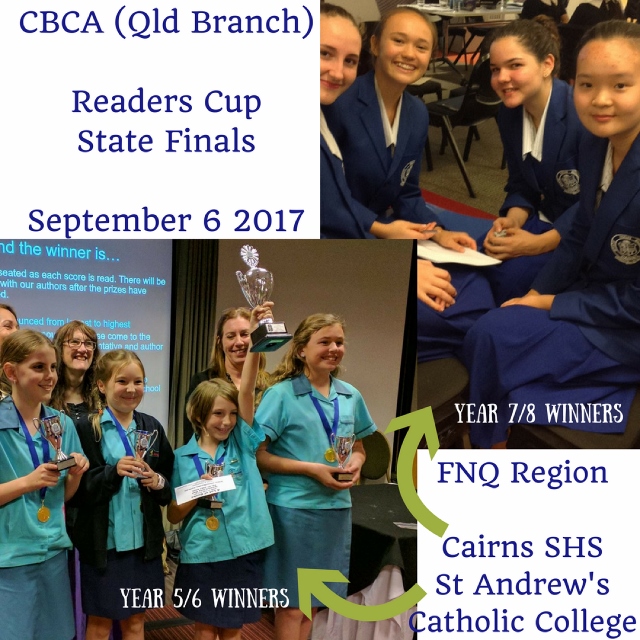 * * * * *
View all news items